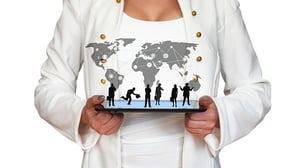 Lead nurturing has become more focused on building relationships. Sharing content and making sales pitches through online means can only bring you so far. Creating a real connection with your audience and individual prospects is necessary to get people to buy into your solution. Honesty and quality are sought after traits in the technology industry and customers still prefer to buy from people they like. Here are just a few ways to revamp your lead nurturing strategy.
Email Workflows
There are many different types of lead nurturing campaigns, all of which help to guide prospects through the sales cycle. With the varying stages of the buyers journey requiring different types of content, having a platform with the ability to automate these types of campaigns is an invaluable tool to marketers. HubSpot allows marketers to create email workflows that are set to go out depending upon what customers open, click or download. These workflows create a drip effect for your sales funnel, enabling your marketing team to focus on content that will drive these prospects towards conversion. That being said, each stage of the buyer's journey and each buyer persona will require a unique lead nurturing approach.
Live Touch
Some view lead nurturing as an automated process consisting mostly of repeated email contact with potential customers. While marketing automation for lead nurturing is extremely valuable, an equally critical component is the live touch. Call-centric lead nurturing not only enhances the web-based approach, it also creates opportunities to forge relationships with prospects that go beyond the click-through. Teleprospecting campaigns help you to capture pain points, identify critical business intelligence, build long-term relationships and keep your database up to date.
Social Media
With social media becoming such a large part of the sales and marketing process, it's important to learn techniques that will help you nurture and convert leads through different social platforms. Many marketers are far too direct with their approach. Adding people you don't know to your page and then blasting them with a sales pitch is a sure way to lose those connections, and along with that, any opportunity for a sale. It's important to note, not every connection you make will be a sales opportunity, however, that doesn't mean they can't benefit your business. Many times it's influencers and people who believe in your product or service that will promote your content to the right areas and even get you a meeting with the correct audience. Often times you'll make connections with people who present to you ideas that will help improve your product or service. Social media is one of the most common and effective ways to build relationships with your prospects. The interactions you have with you prospects create warm leads and excellent sales opportunities. This type of nurturing is an important part of any inbound marketing campaign. With the competition for business being fierce, having a personal connection with your prospects will go a long way towards growing your business.
Direct Mail
With digital technology occupying a larger percentage of marketing resources mainstays like direct mail have become less prevalent but have remained highly effective if employed strategically. Mass mailers are not the answer, as a more strategic approach will show the highest return on investment. Since fewer companies invest in direct mail campaigns they have become a unique way to grab the attention of your most sought after prospects.
Founded in 1990, Winn Technology Group is a leading provider of global, multi-channel marketing solutions for the technology industry. For both direct and channel sales, Winn supports demand creation, account-based marketing, channel management, digital marketing, social media, teleprospecting, lead nurturing, event marketing, database services, and inbound response management.