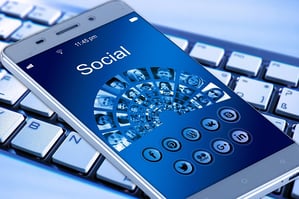 Social media changes on a seemingly daily basis and being able to nail down the most effective means of utilizing it as a B2B marketing platform can be difficult. Identifying underlying trends behind successful campaigns ahead of your competition can impact your brand's visibility and market share. Here we've identified five trends we believe will dominate 2018.
LinkedIn Updates Gain Traction
LinkedIn recently added a feature that allows you to upload videos to your newsfeed. This is a potential game changer and those that pounce on the trend quickly are sure to gain recognition. LinkedIn posts are now public, which allows them to reach viewers outside the realm of the platform. The significance for marketers is that individual posts now have an opportunity to rank in Google searches. Hashtags have also made their way to LinkedIn and despite their negative stigma; they provide a great way to search social platforms. Many great posts have made their way through our LinkedIn newsfeeds and now the most influential ones will be easier to find.
Brand Personalization
Trust has always played a major role in a brands ability to generate consistent business and the ongoing trend of personalization has made a turn inward. Online resources allow customers to evaluate and choose between a number of competitors and your ability to personalize your brand and gain the trust of your audience will great impact the effectiveness of your social media campaigns.
A Shift In Generational Focus
Many organizations have adjusted their marketing plans to focus on the droves of millenials now occupying decision-making roles in technology companies. The one caveat being that Generation Z is not too far behind them. Forward thinking brands will realize that C-level executives in the tech space are only getting younger. Transparency, reputation and reliability should echo through all of your marketing efforts.
Direct Messaging
Social media algorithms can be tough to crack and even the best pieces of content can fail to catch wind and never realize their potential. Posting to company pages and discussion groups as well as utilizing paid social ads can help you narrow your audience, but direct messaging is the live touch of the future. Relationships need to be developed over time in order for direct messaging campaigns to have a positive impact. Just sending promotional content to unsuspecting connections will be ineffective and potentially damaging to your reputation.
Video Gets Even Bigger
There's no denying the power that video has in the social media world. Not too long ago YouTube was the only real option for video marketing. These days nearly every major platform offers some form of video sharing. Video helps you to communicate complex ideas with visual aides, personalize your brand and entertain your audience. As a relatively new way to reach B2B audiences, video optimization will be a large focus in 2018.
Founded in 1990, Winn Technology Group is a leading provider of global, multi-channel marketing solutions for the technology industry. For both direct and channel sales, Winn supports demand creation, account-based marketing, channel management, digital marketing, social media, teleprospecting, lead nurturing, event marketing, database services, and inbound response management.