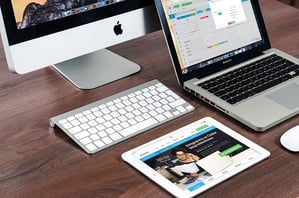 Keeping up with marketing technology and implementing new software to improve your marketing processes is essential to the success of B2B technology companies worldwide. Here we've outlined a few of the top tools being used by technology marketers today.
HubSpot is an all-in-one inbound marketing and sales platform that helps small to mid-market companies attract visitors, convert leads, and close customers. There are a variety of tools that will help you create, publish, distribute and automate the majority of your digital marketing tasks. You can even use HubSpot to host your website which allows for easy updates and edits.
Marketo offers enterprise level companies advanced analytics, marketing tools and can cater to your digital marketing and account based marketing needs. Marketo offers email automation, social media marketing and a variety of other tools to streamline your marketing campaigns.
"Intrigue audiences with brilliantly personalized campaigns across multiple channels including email, display search, web, video and mobile. Oracle Eloqua equips marketers with best-in-class lead and campaign management tools that help marketers engage the right audience at the right time in the buyer's journey while providing real-time reporting and insights."
MailChimp makes email marketing easy with a variety of templates to help you mold your messaging. You also have the option of developing your own design to make your email campaigns unique. If you're not using advanced automation or proprietary email systems, MailChimp can help fulfill your email marketing needs.
"Save time by managing all of your social media marketing efforts from a single dashboard. With Hootsuite's platform, you get the tools to manage all your social profiles and automatically find and schedule effective social content."
"Build a site, no installation required. They host your site and offer built-in plug-ins and free benefits including software updates and security. Register your domain easily and get started in minutes. Choose from hundreds of beautiful designs and customize them for your business site, blog, or portfolio."
"Powered by industry-leading SEO metrics – including Page Authority and Domain Authority – Moz Pro gives you the highest quality data to do your job. Successful SEO takes time, especially when you have to use multiple products to get the job done. Save time and streamline your workflow with the complete Moz Pro toolset. We break down the data so you can focus on adapting strategy for results."
Founded in 1990, Winn Technology Group is a leading provider of global, multi-channel marketing solutions for the technology industry. For both direct and channel sales, Winn supports demand creation, account-based marketing, channel management, digital marketing, social media, teleprospecting, lead nurturing, event marketing, database services, and inbound response management.