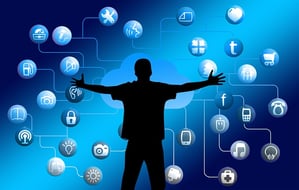 If generating leads is the primary objective of social media marketing, engagement is the driving force behind doing so. Each post represents an opportunity to drive visitors to your website and open the lines of communication. Every click, follow, like or share is essentially the beginning of a conversation, whether it be by direct means or through information sharing. Since acquiring quality contact information can be expensive and risky depending upon your source, social channels offer an opportunity to communicate directly with the people who have shown interest in your company. Social media posts come in many shapes and forms and a diverse selection will provide a dynamic environment for thought leadership. Think of your social pages as individual websites built to educate and entertain your target audience. Each site serves a different purpose and the type of content will vary but your message should remain the same.
Company Blog
Company Blogs are best suited for LinkedIn, Facebook and Twitter. If distributed properly they can serve as a key source of lead generation. Sharing your posts to relevant discussion groups will open up conversations about the solutions that you provide. Pose questions along with your attached blog to invite people to interact with your post.
Infographics
Infographics are a great way to communicate analytical data in a more aesthetic form. Charts, graphs and time lines are much more appealing and help you to highlight meaningful statistics.
Memes
Memes are some of the most shared pieces of content and many have become iconic pieces of the online world. It's not to say that posting a humorous meme will make you an internet sensation, but a quality piece can help you stand out from your competitors and get noticed. It's important to know your audience and ensure you represent your company in a positive light.
Video
Video has become essential for online success and it gives you the ability to display the human side of your company. There are several types of videos you can post including company overviews, client interviews and education pieces. While videos are featured on YouTube, they are well suited for nearly every social channel.
Unpolished Content
Unpolished content consists of posts that are spontaneous and speak to a certain event or occurrence. Although not as highly edited these posts allow you to take advantage of the newest trends and hot topics. These types of posts can include comments about an experience at a tradeshow, an ongoing sporting event or a charitable function. These types of posts will work best on Instagram, SnapChat and Twitter as the shelf life of posts on these platforms is relatively short.
Surveys
Surveys encourage visitors to share their opinions and can provide you with valuable information about your target market. They should be short and easy to complete. Be sure to communicate the results and provide something of value to the participants.
Contests
Contests are a fun way to increase and engage your audience. Those that may have been reluctant to download your content may be persuaded to share their contact information in exchange for a prize. Depending on your industry this could include a new product or free service. This will also give you the opportunity to show off the quality and reliability of your company.
Redirects
Redirects are posts that are created to promote the different platforms where your content is available. When someone follows you it's a good idea to send them a message that thanks them and provides a link to your website, alternate social pages or content. When someone comments on a post, include links that help to further the conversation.
News Releases
News releases that highlight strategic partnerships, new clients and charitable contributions help your online reputation and can bring attention to a worthy cause. Showing the human side of your company will help you develop trust with your prospects thus encouraging further engagement.
Social media is a an integral part of any inbound marketing strategy. Click below to download our Free eBook "Are You Playing With A Full Deck: 52 Tips To Improve Your Inbound Marketing Strategy".