This is the fourth blog in our series outlining the importance of the different aspects of Inbound and Outbound Marketing. The following represent components that were formerly part of an "old school" marketing plan, however, with fewer companies leaning on these aspects, they have become more effective and a unique way to approach potential clients.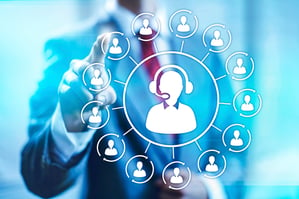 Direct Mail: Direct mail is a time tested part of marketing and remains an essential tool in any great marketing strategy. Direct mail can serve as a way to send out special promotions for discounted services. It also provides a chance to build a long term relationship with a particular contact through the sharing of industry relevant information as well as personalized items such as holiday cards. Direct mail has some advantages over email as you avoid any type of spam filter and it is much easier to find quality physical addresses versus email addresses. Direct mail also has a higher open rate and a longer shelf life. Emails can be deleted in a matter of seconds, where as direct mailers can sit on a desk for days. It also offers a more trustworthy way of distributing information as a prospect can research your company very handily knowing exactly where the mailer was physically sent from. Direct mail is no longer the "go to" for most marketers, so unlike times past, it offers a unique way to go about customer acquisition.

Trade Shows: A well put together booth can leave a lasting impression on a prospective client. Trade shows offer a unique opportunity for face to face marketing with a targeted audience. Through the use of promotional items and business cards it is an excellent opportunity to expand the reach of your brand. There is also great opportunity for lead generation as you can offer these items in exchange for contact information. Major trade shows bring in a large audience and can have a global scope. This allows your company to have as great an impact on potential clients as the larger companies. It also offers direct sales opportunities as many of your targeted decision makers attend these events. The possibility for networking and building partnerships is an added benefit of trade shows. This creates a chance for solid referrals as those relationships you build will lead even uninterested clients to be evangelists for you company. Trade shows are a cost effective source of branding, marketing and advertising.

Press Releases: Press releases offer an opportunity to promote your business regardless of what industry you're in. They are relatively inexpensive as most are written internally. The only cost associated is generally to the agency you are paying to distribute the release. However, even distribution can be internalized through the use of your company website and social pages. A well written press release has the potential to spread through news outlets as any article that is receiving a large amount of views is likely to be picked up by similar publications. Press releases that promote newly acquired partnerships, clients and even community involvement can have a significant impact on the perception of your brand. Due to the internet and an increase in digital news outlets, a press release now offers a large amount of exposure as opposed to yesterdays print only media. One press release a month is enough to keep your company in the headlines without being overly self promoting.

Print Ads: Print advertising is still relevant in today's digital marketing age. Some consumers still prefer to pick up a magazine or newspaper rather than surfing the web for their news. Digital news sources offer several distractions to the reader such as links, videos and multiple advertising offers on a single page. People also tend to stay on a single page in print media longer than on a website page. Although digital advertising can have a greater reach than print ads, there is still a place for the written word. If a consumer has purchased a magazine that you have placed an advertisement in, that magazine could offer dozens of opportunities to reach them each time they open it up to read another article. Print ads can also come in the form of flyers that promote your business. These can be given out at trade shows and events and with the right message, along with your company contact information, it can serve as a way to create inbound teleprospecting opportunities.