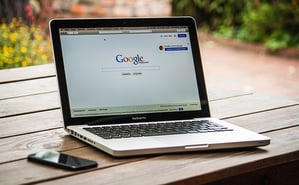 There have been several changes to Google's algorithm this year and they have already had a tremendous effect on page rankings. Hubspot compiled a list of the most impactful changes so far in 2017. With SEO having such a large impact on inbound marketing efforts, and Google being the world's leading search engine, it's important to keep up with the latest changes. Here is a summary of what is happening in the world of SEO.
Adwords
Right-column ads disappeared from the SERPs while the top ad block went up to 4 places, pushing organic results below the fold even on desktops. There have been strong impacts on CTR as a result of this change.
AMP Listings
Google moved closer to their promise of "dramatically improving the performance of the mobile web" by displaying an AMP news carousel at the top of mobile results. AMP adoption has grown and broadened ever since.
Mobile
Google increased the effect of mobile-friendliness as a ranking signal in the search results. Since most pages on the web are already mobile-friendly by this time, it didn't have a great impact.
Possum
This was Google's attempt to diversify local results and clean up spam. City limits were increased, businesses using the same address were filtered out, and the physical location of the searcher started having a higher influence on rankings.
Images
Half of the images dropped out of search results, causing substantial shifts in organic rankings. This shakeup might have been connected to the Penguin 4 rollout, but Google did not reveal anything to that effect.
Penguin 4
Penguin returned after a two year hiatus, joining up with the core search algorithm and going real time in the process. It also devalued links from spam pages instead of penalizing sites for having them. Further, it's now applied on a page by page basis. (hubspot.com)
Founded in 1990, Winn Technology Group is a leading provider of global, multi-channel marketing solutions for the technology industry. For both direct and channel sales, Winn supports demand creation, account-based marketing, channel management, digital marketing, social media, teleprospecting, lead nurturing, event marketing, database services, and inbound response management.
Click Below to Download our Free eBook: Are You Playing With a Full Deck – 52 Tips to Improve Your Inbound Marketing Strategy