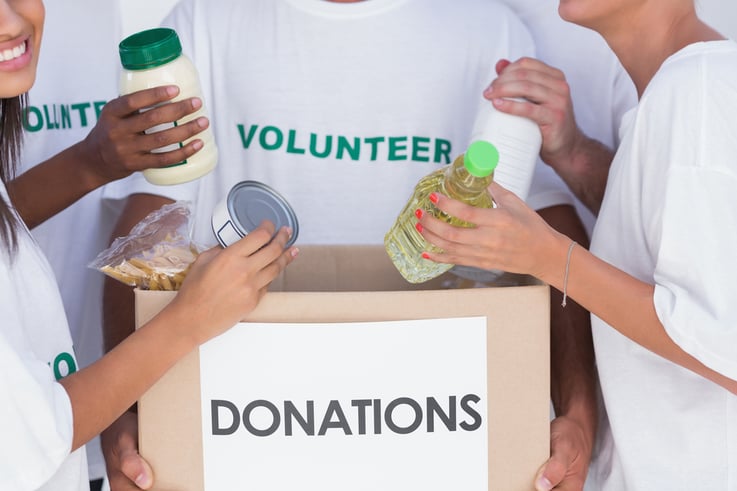 During the holidays, it is important to remember to be grateful for all that we have. We should also take the time to give back to our community and those in need. Volunteering at a local food drive or donating items, time or money can make an impact on someone's life. An office setting provides a unique environment for people to come together to put forth a charitable effort. Collaboration between owners, managers, and employees is vital to make a significant impact, but every act of kindness makes a difference.

Food Drives
According to Feeding America, 5 million Americans will visit a food pantry, meal program, or other charitable food services during the holidays. Food drives are an essential resource for these organizations that make a difference for families every day of the year. Collecting non-perishable donations will help to feed millions of people and bring your company together for a worthy cause.
Donations
Donations can be collected for a wide variety of causes and organizations. There are thousands of organizations that you can give to help the elderly, children, and others in need. Encourage your company to match any donations made by employees. This type of giving helps not only your community but also improves the reputation of your business.
Volunteering
There are many different places to volunteer, including nursing homes, hospitals, soup kitchens, church organizations, and charitable events. In many cases, your time is much more valuable than anything else you can give. Volunteering to keep the elderly company, read to children and feed the hungry are all things you can do by simply giving some of your time.
Places To Donate
Feeding America: The Feeding America network is the nation's largest domestic hunger-relief organization. Together with individuals, charities, businesses, and government, we can end hunger.
Soldiers Angels: "May No Soldier Go Unloved" encapsulates the motivation behind Soldiers' Angels. The volunteers of Soldiers' Angels work tirelessly supporting our nation's veterans, wounded heroes, deployed service members and their families.
Metropolitan Ministries: Metropolitan Ministries provides services such as food, shelter and clothing to families in financial distress. There are many ways to help Metropolitan Ministries other than donating supplies or money. Volunteers can answer phones or greet visitors at the resource center, help sort donations, help visitors choose the food and clothing that they need and help distribute food during the holiday season. Check the website for specific volunteering opportunities.
Make A Wish Foundation: The Make-A-Wish Foundation needs volunteers at every level. Fundraising, training volunteers, office help, planning events and helping grant a child's wish are just a few ways that adults and children can contribute during the holidays. Volunteers are needed to help increase the awareness of the Make-A-Wish Foundation and to assist in the solicitation of funds and people to help grant magical wishes. You can donate funds, time or materials to granting a child's wish. Volunteering with the Make-A-Wish Foundation is a wonderful way to help a child's Christmas be a memorable one.