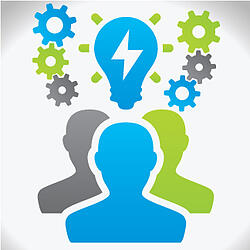 In September 2013, Winn Technology Group invited Jason Hekl, Service Director, Demand Creation Strategies, at SiriusDecisions, to speak with us about current and future marketing trends for complex B2B sales.
Jason Hekl is a seasoned b-to-b sales and marketing professional. With an emphasis on developing and executing demand generation strategies to accelerate growth, Jason has sourced, developed and closed millions of dollars in new business throughout his 19-year career.
Here is part three of our three-part interview.
Winn: Moving on to other important topics for the B2B complex sale, marketing automation has evolved over the years from being email-driven to capitalizing on search engine optimization and social media. Where do you see marketing automation going next?
Jason: That would be a great question to ask me six months from now. We're about to go through a refresh of our SiriusView on marketing automation vendors, so we will be going through a whole briefing cycle over the next few months. Stepping aside from the feature set, I think there's going to be a great move toward simplification. We talk to companies all day long that are still struggling to use many of the advanced features of marketing automation. They're hiring specialized skill sets to manage the systems. They don't have universal use across all their marketing employees, let alone within tele. So, I think making marketing automation easier to use, consumable and accessible to a broader marketing audience is going to be a theme that we see going forward. The primary research we're kicking off – in addition to the refresh on the SiriusView – is exploring not only a deeper understanding of the penetration of marketing automation platforms in b-to-b, but also a better assessment of how companies are using the systems to be more effective in their demand creation efforts. One of the things we are doing is analyzing how we've progressed, where that maturity curve might be, how we break that down and how it might vary by company size, complexity of the business or geography.
Winn: What impact do you think social media has in today's b-to-b complex sale?
JH: I think that really depends on the context. I think that social channels are a convenient way for buyers to connect with other buyers. They get access to unfettered opinions about vendors and their offerings. Of course, the challenge is that is it unstructured data, so it is sometimes hard to glean the real insights on social channels. For sellers, I think it represents another communication channel. There's a lot of focus out there around social selling. It's not just about reaching out – it's really about participating, adding value and using social channels for intelligence on your buyers and their companies. For marketers, we look at it as a great way to amplify the reach of your marketing programs and tactics, at least from a demand creation perspective.
We typically don't advise clients from a demand creation perspective to go out and create social programs in their own right as much as to look at social channels to amplify their other efforts and integrate social into the fabric of their other programs and tactics. In a broader sense, a key benefit of social is that it forces more transparency in these complex buying processes. That unstructured nature of what you are getting can be overwhelming at times, so it requires some careful curation to get the real intelligence out of those channels and communications.
Winn: Is the market being oversaturated with content for prospects to consume? Do you think that will impact the inbound marketing model in the future?
JH: Do you get overwhelmed with email that is unsolicited and inundated with information from online channels? I don't think there's any arguing that everybody's overwhelmed with too much content, but let's not confuse this high-volume content publishing with inbound marketing. I talk to clients that have created some publishing machines and engines, and they've gotten onboard with the demand creation concept today that b-to-b marketers need to be publishers. That's one of those things that you hear that people will believe. I do think there's an element of truth to that, but when think about it from that standpoint, what you end up generating is a lot of noise, a lot of response and a lot of demand for your content. I talk to a lot of companies that you might say are "out there" everywhere, and they're driving a huge amount of response, but the response and demand are for their content and not for their solutions and offerings. I think content by itself does not necessarily create demand for a company's offerings. The best inbound marketers are much more targeted.
Inbound, in and of itself, is about attracting the right audience and being conscious and thoughtful about where you are and what you are presenting in front of prospects. You will see inbound being more integrated, meaning that companies will work harder to identify and attract the right target audience and integrate content efforts into programs and tactics that are specifically designed to help progress a buyer along his or her journey. This means that you know who those buyers are, you've broken them down to the persona level, and you've tried to tie these tactics and content assets into a progression of activities. In fact, a lot of times when we talk about inbound marketing, I find it personally hard to have a really good conversation about inbound without speaking to the subsequent contextually relevant outbound communications and nurture activities that should be feeding from any type of response you are getting through an inbound channel. If I were to boil this down to key themes related to inbound marketing and how it has to change, you've got to get smarter about creating demand for your solutions and offerings versus demand for your content. And you should be thinking of how well inbound integrates with your outbound activities in terms of a multi-touch integrated program.
Winn: Looking forward to 2014, what do you envision will be the key driving factors for marketers in creating demand for a b-to-b complex sale?
JH: Sirius recently published planning assumptions for 2014. We highlighted several trends we think are going to impact demand creation performance for the coming year. The first one is operationalizing persona intelligence. We've seen a lot of interest in the last year or two around going out and developing a higher level of intelligence about your prospective buyers and capturing that in terms of personas. Marketers are under increasing pressure to ensure that their databases and supporting technologies – like their marketing automation platforms and their Web content management systems – are capable of segmentation based on personas and the buying cycle intelligence and buying cycle stage. What a lot of companies have done is task product marketing teams to go out and develop these personas. Sometimes it's based on interviews and primary research they perform, but that becomes something that is a construct used to develop content.
Taking that one step further and embedding persona work inside your processes and systems is another challenge, and that's what I am talking about when I say "operationalizing" those personas. I think that's a key, and I think that companies are starting to use some of these technologies to more fully leverage these personas. First, in pilot programs, we're seeing a few clients that are starting to do that with the hope that they will eventually roll it out into a broader context. The idea is that it's a way to be more targeted with your outreach but, at the same time, achieve scale and efficiency.
So, there's a lot of interest in utilizing marketing automation technologies with some of this persona intelligence and developing persona-specific nurture tracks that see transition points as individuals move from one buying cycle stage to another. That's a big one. I think another strategy is related: greater discipline on content. Specifically, going through that exercise where you are cataloging your content assets by topic, market segment, persona, buying cycle stage, perceived value, and historical performance. You can use that organization almost like an inventory or map to highlight where you have gaps in your content and determine how to fill those gaps. It becomes almost a decision support framework for making investments – where do you need to develop content to support the demand creation process? I also think that goes hand-in-hand with cataloging assets by where they are most appropriate. Then you start to build out persona-specific progressions, which is the first step toward developing marketing programs – nurturing included – that are based on the persona and where they are in the buying process.
I would say that another driving factor is an emphasis on intelligence-driven demand creation, and what this is really speaking to is that more and more marketers are leveraging big-data techniques to complement their existing efforts, reporting, and analytics. They are doing a lot more multidimensional performance analysis and more robust modeling, propensity modeling, predictive analytics, things of that nature. We're seeing companies that are hiring data scientists as part of their marketing teams, and we're seeing greater expertise around analytics and marketing operations functions. We also see more and more vendors that are expanding into that space. We even see marketing automation platforms trying to get a lot more sophisticated with their modeling and reporting. I think that will be another big trend – really leveraging these tools to get the insight to be more targeted and effective with your demand creation programs.
Winn: What new marketing tools do you think will emerge in 2014 and what currently available tools do you think will dominate marketing plans in 2014?
JH: From a tools and technology standpoint, I think marketing automation is going to remain the key tool marketers are going to pivot around. I look for the ecosystem around them to expand, and you will even start to see some overlap. For example, we're seeing overlap now between marketing automation and Web content. We are starting to see a lot more content capabilities in the marketing automation platform and in the Web content management systems – a lot more scoring and profiling activity and dynamic delivery of content from those systems. So, we are starting to see convergence. We certainly see a lot more vendors that are trying to get tighter integration into the marketing automation platform, because that's the technology most b-to-b demand creation marketers are really focusing on.
That said, in terms of where else we see some emerging areas, predictive analytics is certainly one of them. There's another category that's not terribly well defined yet, but a way to describe it is rules-based conversion optimization technologies – companies that might sit atop or parallel to Web content management and marketing automation and allow you to use conditional logic to define when different offers are displayed or certain content is displayed. We're seeing a lot of interest in that. We're starting to see the emergence of tools that support some of these content creation initiatives and deployment of workflows and processes.
This concludes our three-part interview. Winn Technology would like to thank Jason for his time and for sharing his knowledge and experience with us.