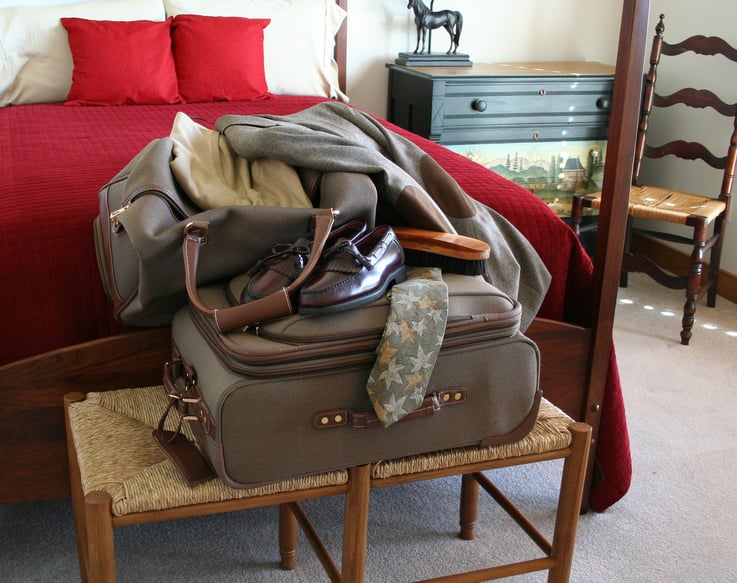 When your job requires frequent business trips with overnight stays, traveling and packing can start to feel like a real chore. Here are a few tips for packing lightly and effectively for business travel:
Carry on
Find out the carry on requirements for your airline and try to make sure everything you intend to bring fits in your carry on. Not only will you have less to lug into the airport, but carrying on your luggage is beneficial when it comes to time management. You no longer have to wait for your bags at luggage claim. You also won't have to worry about any checked bag fees, and there is no risk of your luggage getting lost or damaged on the way.
Accessories
Make sure your accessories like shoes and belts are neutral and go with multiple outfits so that you don't need to pack multiples of each. Pick a base color like grey, black, brown, or blue and stick with it. It will make it easier to condense your packing from there.
Undergarments
Typically, you want to avoid overpacking, but when it comes to underwear and socks, it's always safe to pack a few extra pairs of each so you can freshen up or change them with your outfit if you need to.
Leisure clothing
If you find spare time on your trip, you may want to have a set of more comfortable clothing that you can sightsee, hit the gym, or even sleep in them.
Toiletries
While some toiletries like shampoo and conditioner should be basic amenities at most hotels, be sure to pack the essential toiletries that you can't travel without. Since you will be carrying on your bag, make sure that your toiletries are the right size for TSA regulations. You can pick up travel size containers at most drugstores. They must be 3 ounces or less and packaged in a clear quart-sized bag.
Electronics
Pack a separate bag for your electronics like your laptop, tablet, and cell phone. You may need these items to be easily accessible on the plane or during your layovers. Don't forget to pack the accompanying chargers for all of your electronics.
Supplies
Keep on hand any office supplies you may need on your trip. Don't go overboard but make sure you have business cards, a notepad, pens, and any other vital materials in your laptop bag or purse, so they are easy to access throughout your trip.